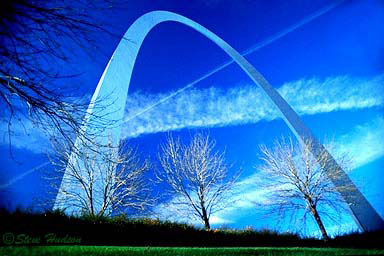 YAPC::NA 2002 will be held on the campus of Washington University, located in the heart of St. Louis, Missouri, United States.
Currency: US Dollar. Visitors from outside the US will need to exchange currency to the dollar.
Climate: In June, St. Louis will be warm/hot and humid. Bring cool clothing. It would not be unusual to expect temperatures to be 90F/30C with 85%+ humidity.
---
Getting There
St. Louis is in the middle of the US and is easy to get to via planes, trains and automobiles.
By air: Scheduled flights, international or otherwise, fly into Lambert International Airport (STL). Getting from Lambert to Washington U. is an inexpensive cab ride or a $1.25 light rail ride with a short walk from the Delmar station.
By train: St. Louis is served by Amtrak which arrives and departs several times daily at the AmShack. Washington U is a short cab ride or light rail ride away.
By car: Parking will be available on-campus at $3 USD per day in all of the lots marked yellow. We will try to have some parking passes available at registration for people to purchase.
Those roadtripping from home should use MapBlast to get general driving directions. Since it's summertime, driving late at night to avoid construction and traffic is highly recommended. Those driving in from the East on I-70/64 should pay attention when approaching the Poplar Street Bridge over the Mississippi since it's a twisty maze of exit ramps that all look alike so read the signs and stay in the furthest to the left lane all the way across the river. Those staying in the dorms will need to take the Grand Avenue Exit. Cheshire Inn people should keep driving until they see the Standard Oil sign looming above the horizon, get all the way over to the right and take the Clayton Road exit: straight ahead will be the Cheshire Inn to the left after the light, to the right and down Skinker will be Washington University.
By bus:Greyhound Bus does service St. Louis and is a short cab ride to Washington University. It is not recommended to arrive alone late at night at this station.
---
On Campus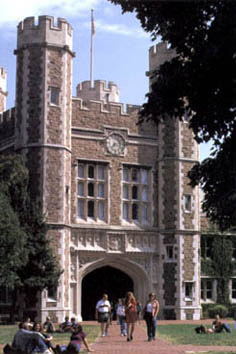 Washington University is a distinguished university established in 1853 and named for George Washington since the charter was passed on Washington's Birthday. It is a leading institution in scholarship and research, including being a pioneer of the early internet with WuArchive and WUFTPd.
Food that will be provided are: Morning buffet outside of Brown 100, morning coffee break, box lunches in Holmes Lounge, afternoon coffee/soda + snacks.
To drive to WU or the Dorms at SLU, follow the SLU or WU directions to campus. WU has an Campus Map [ shockwave required ] and there is no shortage of signage once on campus. SLU also has a Map of Reinert Hall where the dormitory rooms will be available.
By Metrolink, take the line to Delmar Station for WU or to Grand Station for SLU.
Rich Lafferty has a separate photo gallery of some of the conference facilities.
---
Accommodations
Saint Louis University Residence Halls
You can book a room in Reinert Hall at SLU.
Hotels, Hostels, etc.
There are several hotels and a hostel near Washington University to suit nearly any budget. Check out the Lodgings list to find one that is right for you.
---
Seeing St. Louis

St. Louis is filled with fun things to see and do near campus. It is a city rich with history to explore and lots of good food to eat. See the YAPC Blog for more fun things to see and do while you're in St. Louis or, if you're pressed for time, send an email to concierge@yapc-stl.org for questions about things to do or directions to a venue, etc. We will also have a table at the conference with brochures and St. Louis locals who can answer questions or direct you to a place you have in mind.