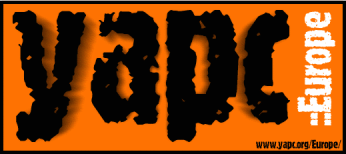 Speaker biographies are available for the following speakers:
Philippe "BooK" Bruhat
Philippe "BooK" Bruhat is a core member of the Paris Perl Mongueurs and a regular participant in Perlmonks, under the username BooK. Using Perl actively since 1998, he is known for his obfuscations which never won the Obfuscated Perl Contest... ;-)
During the summer of 2001, he worked on the translation of chapters 3 to 9 of Amelia (the pet name of the Camel book, 3rd edition) in French. But to make a living, he works as a security consultant for CMG France.
Dave Cross
Dave Cross is an active member of the Perl community and is a regular poster to Perl discussion boards. In 1998, Dave founded the London Perl Mongers group, the first Perl users' group outside the USA. He is still the nominal leader of this group.
More recently, Dave has become a Perl writer and trainer. He has written articles for The Perl Journal and www.perl.com and was a regular columnist for PerlMonth. In January 2001, his first book Data Munging with Perl was published by Manning. He is a regular speaker at Perl conferences.
Hugh Daniel
Hugh Daniel is a 25 year veteran of computer software (and sometimes even hardware), both private and Free & Open Source. He has been involved in diverse projects ranging from non-violent educational software, Project Xanadu, Unix based community BBS's, network graphics, rocket design, cryptographic education and online civil liberty's. Hugh Daniel is currently the manager of the Linux FreeS/WAN Project which is working on making the Internet both secure and private for people to commentate via.
Marcel Grunauer
Marcel Grunauer has studied computer science at the Technical University of Vienna and has developed software since the early 90s. He has been involved with the Perl community for several years, has attended Perl conferences, and has recently been active in London.pm and Vienna.pm.
He has taught a few introductory Perl classes on a small scale. He has written several modules (cf. CPAN, author id = MARCEL) and proofread Dave Cross' book "Data Munging with Perl".
Brian Ingerson
Brian Ingerson lives in Vancouver BC, and is working to make the Perl a better place.
Daniel Karrenberg
Daniel Karrenberg has helped to build the European Internet since the early 80s. As one of the founding members of the German Unix Users Group he has been involved in the setting up of EUnet, a pan-European coperative network providing electronic mail and news to businesses and academic institutions all over Europe. While at CWI in Amsterdam, Karrenberg has helped to expand this network and convert it to a fully IP based service. During this time he created a 'whois' database of operational contacts, that was the nucleus of the current RIPE database. Karrenberg is one of the founders of RIPE, the IP coordination body for Europe and surrounding areas. In 1992 he was asked to set up the RIPE NCC, the first regional internet registry providing IP numbers to thousands of Internet service providers in more than 90 countries. Karrrenberg has lead the RIPE NCC until 1999 when it had an international staff of 70 with more than 25 nationalities; he currently helps to develop new RIPE NCC services. Recently his contributions have been recognised by the Internet Society with its 'Jon Postel Service Award'. Karrenberg's current interests include measurements of Internet performance and routing as well as security within the Internet infrastructure. In general he likes building new and interesting things.
Daniel has been an avid user of Perl since he converted from 'csh+sed+grep+awk'. Most of his programming projects start as a perl prototype and most of them end there because the prototype is 'good enough for now'. Daniel has received numerous and humorous threats from those who have had to re-implement some of these prototypes after they turned out to provide real services.
Tim Maher
During the last two decades, Dr. Tim Maher has taught programming to thousands of high-tech professionals. As a Professor of Computer Science, and later as a Software Instructor for AT&T, Sun, DEC, Hewlett Packard, and CONSULTIX, Dr. Maher has consistently earned acclaim for his highly effective and entertaining style of course development and presentation.
Tim O'Reilly
Tim O'Reilly is well-known as the founder of O'Reilly & Associates, Inc. He has written several books on computer topics, and, as an editor, has had a major hand in the development of many other titles. Tim is also an advocate for internet standards, Open Source software, and against sham software patents. He has served on the board of trustees for the Internet Society and the Electronic Frontier Foundation.
Michael G Schwern
Schwern's code runs like a rash across CPAN, with 28 modules as of this writing including Class::DBI, Carp::Assert, Semi::Semicolons and Sex totaling some 10,000 lines of code, 13,000 of documentation and 3,500 of tests. Because he couldn't keep his big mouth shut, he finds himself Perl6 Quality Assurance manager. Having spoken at TPC 4 and every YAPC yet, its a wonder they keep letting him back. When not coding up Yet Another CPAN module, Schwern enjoys stuffing various sea creatures into his overalls and shooting bad technical books.
Arjan de Vet
Arjan de Vet studied Computing Science at Eindhoven University where he also worked as a researcher for four years. After doing his military service he joined Philips C&P in 1995, nowadays called Atos Origin, where he worked on a wide range of Internet related topics with a strong focus on security. As of July 1st 2001 he is a partner and security consultant at Madison Gurkha, a company specializing in security. During his whole career he has used PERL with a special interest in writing and auditing of scripts that can be used with elevated privileges or in hostile environments (like a webserver on the public Internet).
Jouke Visser
Jouke Visser is a member of Amsterdam.pm (the Amsterdam Perlmongers) and can be found on Perlmonks almost every day under the username Jouke (how creative :) ). He has been using Perl since 1997 and rates himself "Perl Adept" according to Nathan Torkinton's Seven Stages of a Perl Programmer.
He writes free software for disabled children, and is currently employed at 2organize.
Johan Vromans
Johan Vromans has engaged in software engineering research since 1975. Convinced of the importance of a good programming environment, he became an expert in using GNU Emacs and the Perl programming language. Also he was instrumental in bringing the Internet to the Netherlands as a commercial activity. He currently owns his own consulting business called Squirrel Consultancy. He can be reached at JVromans@squirrel.nl.