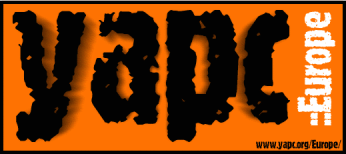 YAPC: Yet Another Perl Conference
Europe 2001
Thursday, August 2, 2001 -- Saturday, August 4, 2001
Hogeschool Holland, Amsterdam, Netherlands
---
Breaking News
August 9 -- yapc::Europe is now over. Many thanks to the organisers and attendees for making the conference a huge success! The proceedings / slides for most of the talks are now available. Informal reports of the conference are also available.
August 4 -- Day three of the conference started with a talk by Hugh Daniel on The Current Tragedy of Common Free & Open Source Quality.
August 3 -- Day two of the conference started with a keynote by Daniel Karrenberg. Addition journals have been added below.
August 2 -- The conference has started! Various people are keeping journals with entries on the happenings at the conference, so try and follow the conference by reading 2shortplanks's, acme's, binky's, blech's, james's, jns's and jouke's journals. Jouke is taking photos during the conference. Also check out the alternative yapc::Europe tshirt design, with added obfuscation.
August 1 -- Tim O'Reilly has canceled and will be replaced by Hugh Daniel, Linux FreeS/WAN. Marcel Grunauer has canceled. Gerald Richter will give Embperl - Building dynamic Websites with Perl instead, in the Iterative Software room on Friday from 15:05-15:30.

---
Please send all queries to info@yapceurope.org. Press inquiries can be directed to media@yapceurope.org.

---
What is YAPC?
YAPC is "yet another Perl conference", with apologies to

The Perl Conference. This is an inexpensive, grassroots Perl conference with its roots in the Perl Mongers Perl users groups, and is supported by Yet Another Society.
YAPC began as a smaller, regional version of TPC in the Eastern USA, hosted by Carnegie Mellon University. Last year, YAPC::Europe was held in London, UK, the first European Perl Conference. This year the North American YAPC was held in Montréal, Québec, Canada.
The second European YAPC is being held for the first time on continental Europe in Amsterdam, Netherlands, and is being hosted by the Amsterdam Perl Mongers.