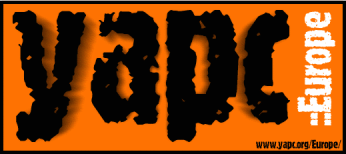 Registration is, of course (the conference is over!) closed.
You can now register on our secure server. The price is 99 Euros. This redirects you to the SSL server secure.yapceurope.org, operated by the Stichting Perl Promotie Nederland.
Note that full speakers need not register, although people only giving a lightning talk still need to register.
Note that you are no longer guaranteed a YAPC::Europe t-shirt because it is past the ordering deadline. However, spare t-shirts will be distributed on a first-come-first-served basis at check-in.
Access to the attendees list is available for registered participants.
You may also request a resend of registration information.
In case an invoice is necessary now for your administration, a request can be sent to invoice@yapceurope.org. Otherwise, if you have specified on the registration page that an invoice is necessary, it will be presented to you at the registration desk during the conference.
Refunds are possible, however at this late date you will only receive a 50% refund. Registration can be transfered to someone else if you prefer.
You will have to book accomodation. Some people have organised a discount at a hotel, which you can now reserve online.