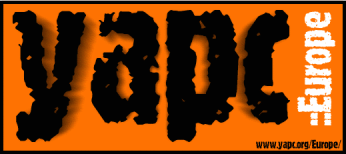 The location for yapc::Europe 2001 will be Hogeschool Holland in Amsterdam, Netherlands.
Campus Map
A map of the campus is available.
Onsite Check-In
The check-in desk is located in the area just inside the main entrance.
Check-in will open on Wednesday, August 1 at 16:00. It will close at 18:30. If you're already in Amsterdam, early check-in is a good way to avoid the morning rush and familiarize yourself with getting to the school.
On the first day of the conference, registration will open at 07:30, and talks will begin at 09:00. All other days the desk will open no earlier than 08:00.
Smoking
Smoking is not allowed inside the building! Please smoke in front of the building, by the fountain, where ashtrays are provided.
Accessibility
All rooms are wheelchair accessible with the exception of the Iterative Software room, which will not be accessible Thursday but which will be accessible all other days of the conference.
General
We strongly advise people to keep their belongings with them at all times.
Time
People need to be out of the building by 19:45 daily.