Yet Another Perl Conference Europe 2001
August 2-4, 2001

Hogeschool Holland
Amsterdam, Netherlands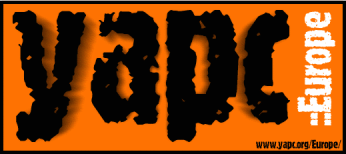 We can't thank the following sponsors enough for their contributions:
---
We are still looking for sponsors for YAPC::Europe 2001. Please contact Jouke (sponsor@yapceurope.org) for information about how you can help support YAPC Europe. Much of the necessary funding for YAPC comes from the generous donations of our kind sponsors.