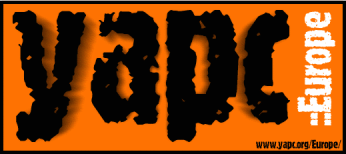 We expect to have space available at the venue for Birds of a Feather sessions between 17:30 and 19:00 daily. If you are interested in organizing a session at the venue, please contact bof@yapceurope.org with your preferred time/day preference.
Known BoF sessions:
---
CPANTS
A hack session will be held for CPANTS (CPAN Testing Service) on August 1st and August 5th. For more information subscribe to cpants-devel@lists.sourceforge.net via http://lists.sourceforge.net/lists/listinfo/cpants-devel.
Pub crawl
A pub crawl will take place on Friday, starting at 21:00.
Perlmonks
A Perlmonks BOF will take place on Friday (it used to be on Saturday).
YAPC Spouses Activity
Joan Kensen will give a sight-seeing tour of Haarlem on Friday for 'YAPC spouses' -- adults not interested in Perl who are accompanying attendees to Amsterdam. The outing will begin at the conference at 09:00 and end at Amsterdam Centraal Station around 15:30.
The trip will cost around 45 guilders (10,50 for the train ticket, about 20,00 for lunch and the remainder for metro and drink expenses).
Note that the train to Haarlem will take around 15 minutes, and that the metro to Centraal Station will take around 10 minutes.
Space is limited to 12; please mail to reserve a space.
Concurrency Session
On Friday at 17:30, following the talk on ithreads, there will be a Concurrency session (threads/POE/event) in the Iterative Software room organized by Artur Bergman.